In 2014, Apple started to use 2.5D curved edge on the iPhone.
The curved part on the screen is the biggest issue. Traditional OCA glue is a clear-thin sheet that has adhesives on both sides, it is wildly used in screen protector production. However, OCA glue only works on a flat surface, and it chips at the curved part. So OCA screen protectors have 2 solutions: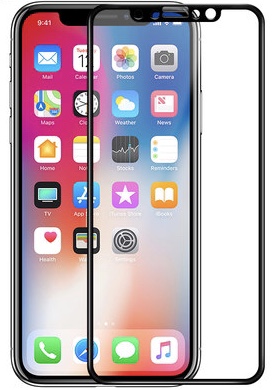 Both of the solutions have the same issue in common: only part of the screen is glued. Furthermore, Solution 1 makes it really uncomfortable when you swipe across the edges; solution 2 is too thick, and the paint will reduce the display area.
The heat curved glass fits the original screen 100%, you won't feel the screen protector at all. The most exciting part is our Jelly Glue. Our special formulated Jelly Glue is normally liquid, but it solidifies under ultraviolet light. So, don't forget to avoid sunlight during installation.
Since Jelly Glue is liquid, it goes into every gap between the 3D pro glass and the screen. Jelly Glue has similar properties as silicon glue after solidification, which provides extra cushioning when your screen faces impact. Our Jelly Glue also fills in scratches on your screen, which makes them totally invisible. Jelly Glue is safe to use and its odor will be gone after solidification, it can be washed away completely with soap